Jetcam Expert V20
CAD / CAM software designed to make simple and intuitive the offline programming of CNC punching machines.
Scalable and flexible, fits any kind of reality, from the smallest to the most developed.
Import your DXF and DWG files produced by CAD
Do not waste valuable time, upload file DXF and DWG directly to JetCam, the software will handle their import and cleaning.
Make the programming of the machine quick and efficient
Automatic selection of the best tool
Automatic Nesting
A tool that simulates the pieces to be produced on the sheet of paper resulting in the calculation of the production times and materials needed.
JetCam's advanced automatic nesting, minimizes friction, allowing you to maximize productivity and reduce production times and costs.
| JetCam Expert | Expert Lite | Expert 1 | Expert Premium |
| --- | --- | --- | --- |
| DXF Viewer | ✔ | ✔ | ✔ |
| Automatic hazard avoidance (holes and forms) | ✔ | ✔ | ✔ |
| Interactive CAD with export facility | ✔ | ✔ | ✔ |
| CAD drawing import for popular CAD and machine tool vendor formats | ✔ | ✔ | ✔ |
| Component revision control, providing safety when generating static or dynamic nests | ✔ | ✔ | ✔ |
| Automatic tool selection | ✔ | ✔ | ✔ |
| Automatic micro-joints, lead-ins/outs, loops etc. Intelligently applied to parts nested at specific angles | ✔ | ✔ | ✔ |
| Interactive nesting (arrays, bump nesting (free hand) and mosaic nesting) | ✔ | ✔ | ✔ |
| Automatic nesting of a single component at 0 and 90 degrees | ✔ | ✔ | ✔ |
| User definable machine macro commands | ✔ | ✔ | ✔ |
| Automatic tool path and tool rotation optimisation with highly efficient sequencing of final cuts | ✔ | ✔ | ✔ |
| Automatic parting and unloading of components at any angle | ✔ | ✔ | ✔ |
| Automatic repositioning and continuation of a cut over a reposition where required | ✔ | ✔ | ✔ |
| Automatic turret/magazine loading and Automatic Turret Nesting | ✔ | ✔ | ✔ |
| Multiple tool libraries | ✔ | ✔ | ✔ |
| Automatic placement of special tools | ✔ | ✔ | ✔ |
| Full simulation capabilities with runtime estimation data available for costing | ✔ | ✔ | ✔ |
| Automatic sheet processing, including skeleton destruction | ✔ | ✔ | ✔ |
| Single Component Automatic Processing (S.C.A.P.) | | ✔ | ✔ |
| CAD Filtering (auto-repairing of 'dirty' CAD files) | | ✔ | ✔ |
| Tool Teach Mode - ability to 'learn' preferred tooling methods | | ✔ | ✔ |
| Support for metal sheet loading and unloading system | | | ✔ |
These topics might also interest you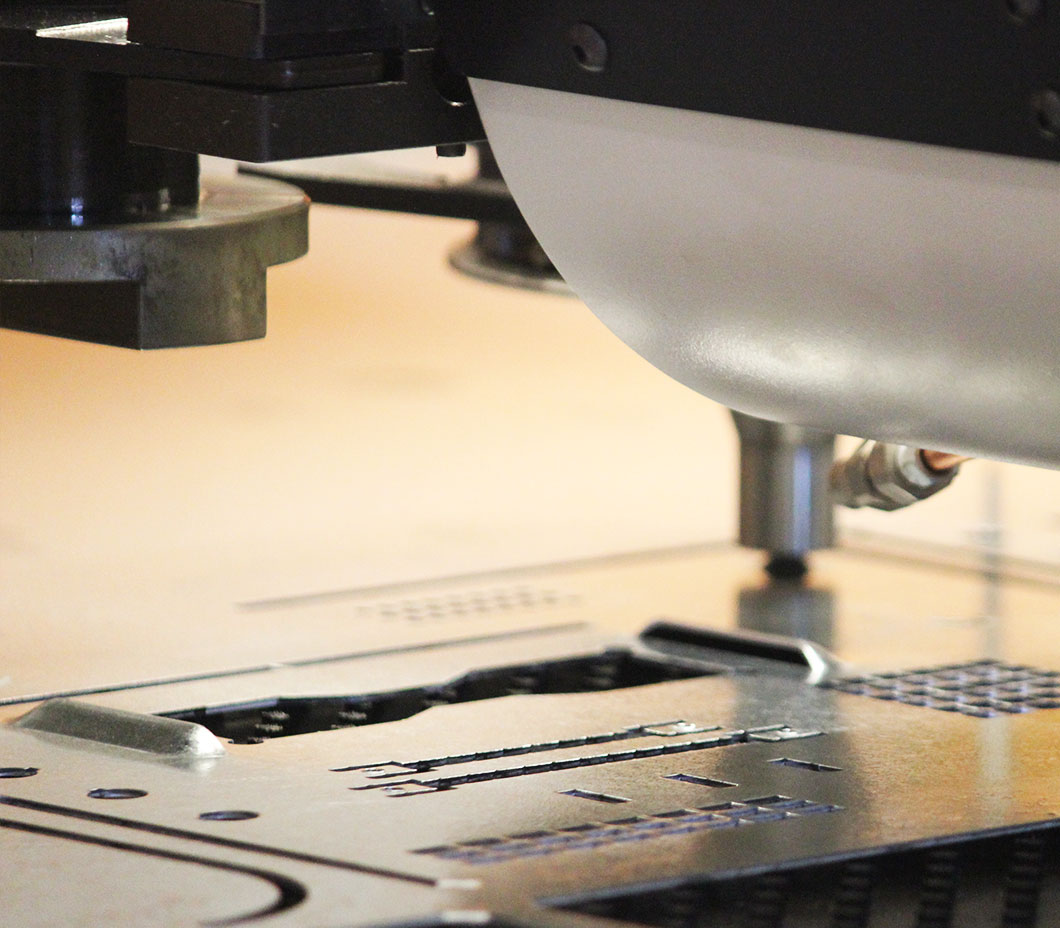 TecnoPunch servo-electric punching machines for punching, deformation, threading and bending
La seconda vita per le macchine di qualità trasformandole in centri di lavoro moderni